WorldPay Virtual Terminal

What Is The Virtual Terminal?
The Virtual Terminal is a secure web based terminal allowing you to enter your customer's card number and other details into a web browser and submit them to your Merchant Account for authorisation and processing. Transactions are authorised and processed in as little as a few seconds.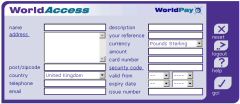 The Virtual Terminal is an optional extra with your WorldPay Internet Merchant Account or your Streamline Merchant Account. All credit and debit card transactions must be processed through a merchant account. If you only ever want to take orders by telephone, then no problem, but you must still have a Merchant Account.
All transactions processed through your Virtual Terminal will be shown in your Customer Management System together with transactions from your web site.

How Does The Virtual Terminal Work?
Shopper telephones the merchant to place an order. The merchant enters customer details and credit card details into the Virtual Terminal.
The merchant clicks the button to process the transaction. The card details are processed in real time, normally within a few seconds.
The merchant is notified on screen that the transaction has been authorised. Both the shopper and the merchant receive email confirmation that the transaction has taken place. Merchant informs the shopper that the transaction has been authorised and arranges to despatch the goods or provide services to the shopper.

Benefits of Using the Virtual Terminal
Quick and easy to use
No software to install
Allows multiple simultaneous users
Use anywhere in the world with Internet access
Works on all web-enabled devices
Ideal for non-standard payments
No additional fees

Virtual Terminal Fees
The Virtual Terminal is provided free of charge with your
Streamline merchant account
or your
WorldPay Business Gateway Plus
account.
Transaction fees for all payments processed via the Virtual Terminal are the same as those for your normal
Streamline merchant account
or
WorldPay Business Gateway Plus
account.

Apply for the Virtual Terminal: Request Callback
To apply for the WorldPay Virtual Terminal, please fill in the form below and a representative will call you within 1 -2 working days. Please ensure you provide all the information requested. The more information you provide, the easier it is to complete your application or to answer any questions you may have.