Control Panel - Find WorldPay Merchant Code (Account ID)
In February 2008, WorldPay upgraded their systems, renaming the Account ID to Merchant Code.

You should have at least one Merchant Code for your WorldPay account. If you only have one Merchant Code, you may not need to enter it into FastCart. If you have 2 or more Merchant Codes, enter the appropriate code in the FastCart control panel to ensure transactions are processed through the correct merchant code.

WorldPay Merchant Code (Account ID)
To find your WorldPay Merchant Code, log into your WorldPay account with the username and password given to you by WorldPay. Click the Payments link in the left hand menu. Your Merchant Code will be displayed as per one of the images below: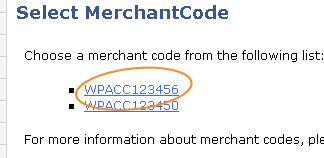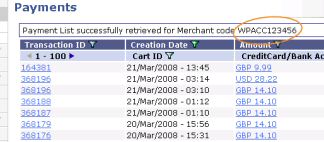 If you have recently applied for a WorldPay account, you may not yet have login details for your WorldPay account. You can still set up your site and test it with FastCart while you wait for WorldPay to approve your application and send your login details to you.